Recorded Oct 7th, 2014
Aired Oct 14, 2014
  6-7pmPST show time
——————
Guest 1: Christine Taylor-Bronson, Owner, Idaho Hemp Works and  Indie Hemp Works
Promo Code: GoGreen and get 30% off

Would you like or do you know of a hemp product, project or person that would like to be a guest on our show? We are always looking to support current and ongoing hemp dreams! Sign up HERE
——–
iHempRadio supports Hemp History Week! SIGN UP for the HHW Newsletter!!
Lets us know about your next hemp event!
Mark your calendar for the 6th Annual Hemp History Week – June 1-7, 2015.
————-
iHempRadio is offering HempCases! These are hemp composite brief cases with shoulder strap, latches,inside pouch and computer strap! Order form is now open. Place your order here!
———–
Guest 1: Christine Taylor-Bronson, Owner, Idaho Hemp Works and  Indie Hemp Works
Promo Code: GoGreen and get 30% off
Indie Hemp Works started in 2010 as "Idaho Hemp Works" by Idaho native Christine Ashley Taylor. She wanted to create a brand
for the purpose of spreading an idea that "Ecology Is Economy".
After spending 5 years working her way up the corporate ladder of a bank Christine found herself in financial ruin, bankrupt and divorced. She began rebuilding her life from scratch and looking at the world we live in today with a passion for the global economy and modern ecology.
With nothing to lose and everything to gain she invested her last $20 bill on craft store supplies and a roll of itchy, smelly hemp twine accepting the challenge to build a brand from scratch. Friends and family purchased her first pieces of jewelry from her personal Facebook account and shortly after she began selling her products to clients around the world with the help of an Etsy account.
In 2012 she began building the official webstore in the middle of the nights while her son slept and her fiance worked a graveyard shift assisting people with a mental or physical disability.
Christine still operates the business from her home office on a cash business model and is always learning new tricks to keep up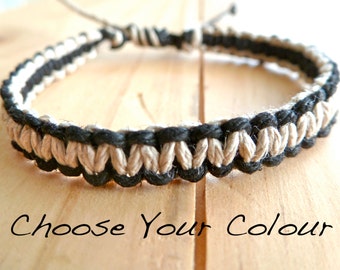 with her kids, family, personal and business life. She proclaims that its been exciting to see other eco-friendly businesses boom since she's started her business and is grateful for the slow growth because of her old fashioned approach to business. Her dream is to grow the business to become a massive success for her family that sends out a powerful message around the world and she believes a portion of that has already been accomplished.
Since the business was founded in 2010 the quality and streamlining of products has continuously improved. The name has changed from Idaho Hemp Works to Indie Hemp Works and the products have been shipped to places across the country and around the world but the roots and heart of the operation are still in Idaho and the mission is still the same;
Make a statement, hemp works; because without ecology there can be no economy…
 Guest 2:  Doug Fine, Author, Hemp Bound 
Doug Fine- Friend, Author, Father & Goat Herder
For the follow-up to his 2008 bestseller Farewell, My Subaru: An Epic Adventure in Local Living, author, investigative journalist, and solar-powered goat herder Doug Fine spent the 2011 "Emerald Triangle" cannabis growing season shadowing locally-permitted cultivators from farm to patient in Mendocino, County California. This is a redwood-enshrouded paradise where federal law enforcers are generally not welcome and cannabis is worth $6 billion to farmers annually. The number two crop, grapes, brings in $74 million. Witnessing the impact of the local legalization of cannabis on the Northern California economy and public safety (an experiment fully endorsed by the local sheriff), Fine extrapolated the staggeringly large revenue source he discovered on to a nationwide model in his widely-praised book Too High to Fail: Cannabis and the New Green Economic Revolution.
Then, in 2013, Fine realized hemp is soon to be even bigger. For more than a year, he researched hemp from Canada (where hemp is a crop valued at close to a billion dollars and growing 20% annually) to Belgium (where farmers grow hemp fibers for use in BMW and Mercedes door panels).
In his new book, Hemp Bound, Fine convincingly argues that hemp will prove even more lucrative to the American economy than psychoactive cannabis. It is, according to Willie Nelson, "a blueprint for the future." Hemp Bound covers all facets of industrial hemp, from production to digital age industrial applications, and everything in between. Officially published April 20, 2014, pre-order is on now everywhere. When not investigating sustainability and drug policy, Fine lives in New Mexico. 
www.dougfine.com
-